assistant_photo
Champagne Only
assistant_photo
Champagne Only


Nose as well as the mouth, is tasty and ripe with a developed and round note to the sweetness of the "famous" powdered pink biscuit from Reims, with aromas of freshly picked wild strawberries under the morning dew, feline palate, pleasant and syrupy, finish on an old syrup of cherry and orange and a hint of white chocolate.
Safety guarantees

Safety guarantees

Home delivery – 3 to 4 days

Home delivery – 3 to 4 days

Returns policy

Returns policy
It's not every day you have the chance to enjoy a wonderful luxury champagne. Oeil de Perdix is one of the most unique champagnes available for purchase. Brought to us from Baron Dauvergne, this is one of the finest champagnes. This particular bottle features an enticing light pinky-golden hue, with hints of amber shining through when held up to the light. The bouquet shares an aroma that's sure to captivate you. And if you take one loving sniff, loaded up with fragrant red fruits, cherries and raspberries you'll be transported to those memories of summer on a cold winter's night. This exquisite wine is perfect any time you care to sip on anything other than copper-colored rosé or bitter white wine.

A bottle of Baron Dauvergne Champagne Oeil de Perdix is the perfect centerpiece for any dinner party. Impeccably balanced, it's an experience not to be missed. Celebrate your festivities with Baron Dauvergne Champagne Oeil de Perdix. This bubbly is a great pairing with smoke-flavored foods, heavy red meat, and earthy game dishes. Whether you're enjoying it as a go-to drink for festive occasions or just to celebrate an ordinary Wednesday night at home, this champagne will never disappoint.

Everyone needs an impressive bottle in their collection with the Baron Dauvergne Champagne Oeil de Perdix. Grand Cru Terroir, 80% Pinot Noir and 20% Chardonnay from Bouzy, this wine is elegant and distinguished. With a refined oak finish that carries mineral undertones, and long drying fruit flavors on its light body as well as rich creamy notes that linger nicely at the end. What better way to toast to a new beginning than with a bottle of this champagne ?
Champagne Blending :
- 80 % pinot noir
- 20 % chardonnay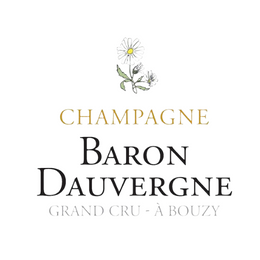 Champagne BARON DAUVERGNE Cuvée Oeil De Perdrix
Data sheet
Champagne Growers or Houses

Champagne Growers

Color

Rosé

Size

Bottle 75 Cl

Menu with wine pairings

Aperitif
Meal

Vintage

NV

Dosage

Brut (less than 12 g/l)

Packaging

Without packaging
No customer reviews for the moment.