assistant_photo
Champagne Only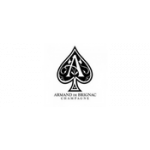 Armand de Brignac champagne
The epitome of good taste, every bottle of Armand de Brignac – bottled and produced by hand using only traditional methods – enters its gold bottle and instantly becomes a luxury product.
The Cattier family are responsible for this Champagne, and every element of this much respected wine oozes passion, style and consistent wine making techniques that have been proven to achieve the ultimate results.
If you need any more convincing of why Armand de Brignac Champagne is so sought after, then consider this: a blind tasting in 2010 saw this Champagne rise above all the others to claim the title of First in the World. And, when you consider that 1,000 brands were battling it out for the coveted top spot, it's obvious just how far ahead the House of Cattier are ahead of many of the other leading wine brands. Even more impressive, the Champagne received 98 points, giving it a higher rating than any other Champagne ever entered into the competition.