DELAMOTTE Champagne Brut Tradition
The seriousness in the Champagne Brut Tradition Delamotte is reflected in this excellent brut. A sparkling wine for connoisseurs to discover without delay.
Distinctions :
- 16.5 / 20 Jancis Robinson
- 91/100 Parker
- 67/100 Richard Juhlin
- 90/100 Wine Spectator
- 14.5 / 20 Bettane & Desseauve
The Brut Tradition Champagne Delamotte is a sparkling wine resulting from a blend of 50% Chardonnay, 30% Pinot Noir and 20% Pinot Meunier. Pinot meunier gives Brut Tradition its power without aggressiveness, its pleasant freshness, its supple roundness and its clean and fruity finish. This brut champagne is very pleasant, balanced and elegant. Each grape variety plays its role in the assembly of the wine, the majority chardonnay lays the foundations of its structure while the Pinot Noir gives it depth and fruitiness. The tip of Pinot Meunier, the least acidic grape, gives it its aromatic density. After 30 to 36 months of aging on the lees, a slight dosage is added to Champagne Delamotte Brut, as to the entire Delamotte range.
Champagne Tasting :
To the eye, a beautiful light golden color.
On the nose, freshness with expressive aromas of lemon, white flowers, honeysuckle, acacia and pomelo.
On the palate, creamy freshness, suppleness of its effervescence, with a straight finish underlined by lemony fragrances.
The Champagne Brut Tradition Delomotte is a generous sparkling wine, all pretexts are good to taste such a champagne wine, essential in the cellar. As an aperitif, but also with a fruit dessert.
Champagne Blending :
- 60 % pinot noir
- 15 % pinot meunier
- 25 % chardonnay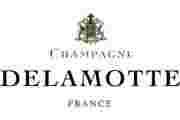 Champagne DELAMOTTE Brut Tradition
Data sheet
Champagne Growers or Houses

Champagne Growers

Color

White

Size

Bottle 75 Cl

Menu with wine pairings

Aperitif

Vintage

Non Vintage

Aroma

Fresh
Fruity
Mineral

Dosage

Brut (less than 12 g/l)

Packaging

Without packaging